Unable to open TWAIN source
This post is a deviation from my general blog theme, but I simply had to post it.
Issue: my Canon LiDE 25 scanner was working for several years on Windows 7 x64 English Pro but suddenly started to show error "Unable to open TWAIN source Please check connection Then re-start Toolbox"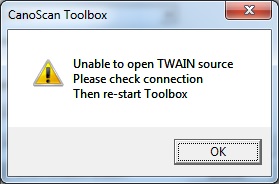 Solution: add C:\Windows\twain_32\CNQL25 to PATH environment variable.  Problem solved!